ETC Pask Permeameter Kit with Auger and Carry Case (Factory Second)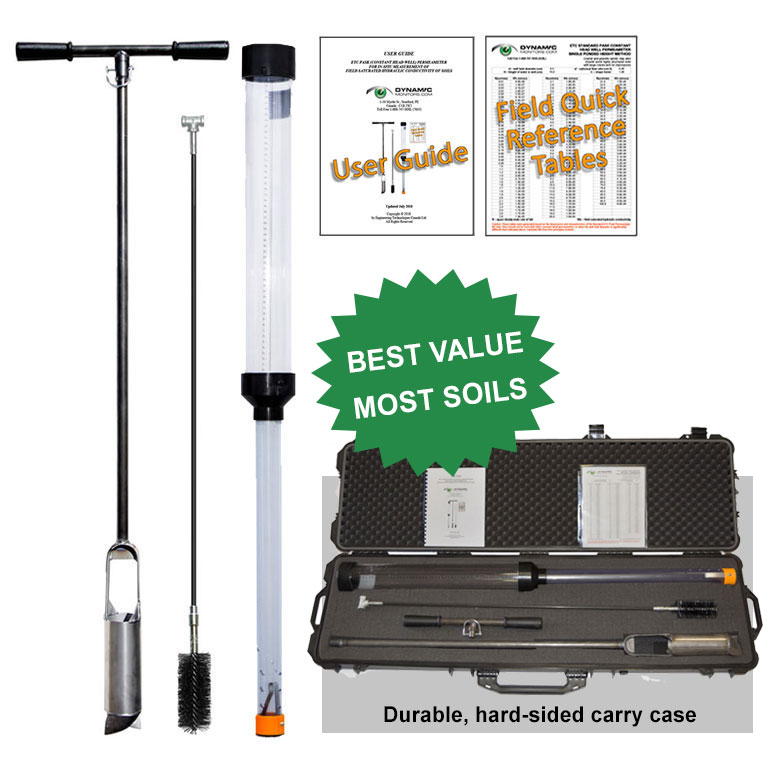 USD $1,100.00
"Factory Second" Pask Permeameter Kit with Auger and Carry Case
The ETC Pask Permeameter Kit (factory second) provides great value compared to other options. The high quality, professional AMS 2-piece auger has been specially selected for our kit, and all components store conveniently inside the durable, hard-sided carry case.
The Pask Permeameters in these kits have cosmetic or aesthetic issues that do not impact their functionality or accuracy in any way.  The most common issue is that the lower tube has a slight angle from where it is glued into the reducer fitting. Other issues could be that the glue is a bit messier than our "factory firsts", or there could be a small bit of glue on the inside of the tube/reservoir. There could also be a small hairline crack in the upper reservoir.
All of these "factory seconds" have been QA/QC tested to be watertight, and none of the aesthetic/cosmetic issues would cause problems with the  performance of the permeameter or the accuracy of the measurements. They come with a standard 2 year warranty for permeameters purchased with a storage/carry case.
If you wish to purchase the "Factory First" version of this kit, please visit this link instead.
Copy and paste this URL into your WordPress site to embed
Copy and paste this code into your site to embed